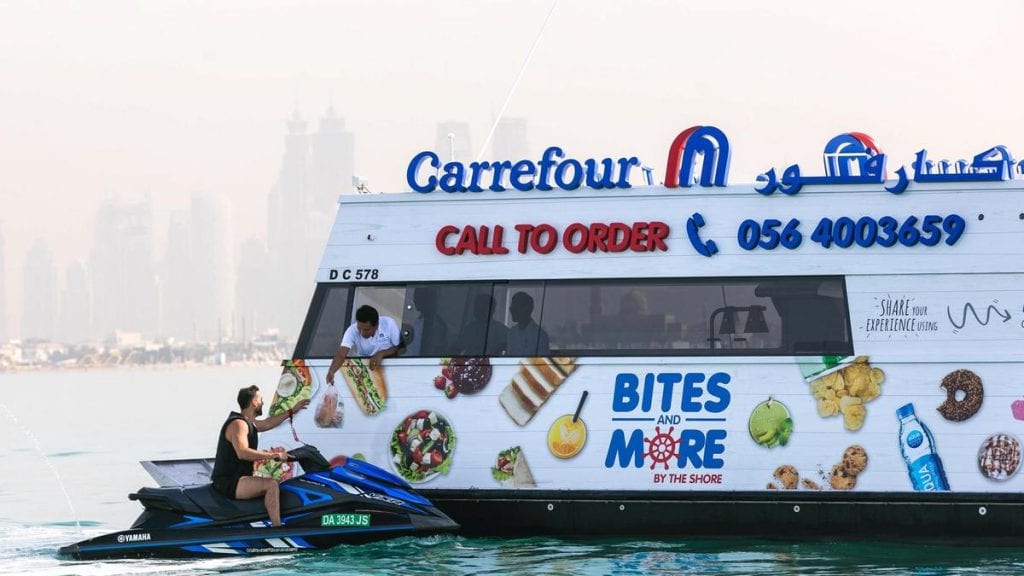 Have you ever felt thirsty or hungry out at sea? Or just came across a situation where you're craving for your favorite candy bar?  Or rather you're lacking resources on your fancy yacht?
Keep calm, because Carrefour has launched the world's first sail-through supermarket. It features a range of 300 items including hot and cold snacks, beverages, fresh and dried foods, and selected non-food and personal care products. Jet skiers and passengers in small sailing crafts can sail up to the aqua-pod and order at the window counter, pay and wait for their items.
As for beachgoers, they too can have things delivered to them by just dialing 056 400 3659 or place an order via the Aqua Pod app, which is available on Android and iOS.
A skiff will then deliver their order within a 45 minute target delivery time.
The aqua pods are so far available to customers on Kite Beach, Jumeirah Public Beach and Al Sufouh Beach.
Store timings:
6 day(s) a week: 10am - 6pm
(depending on weather conditions)