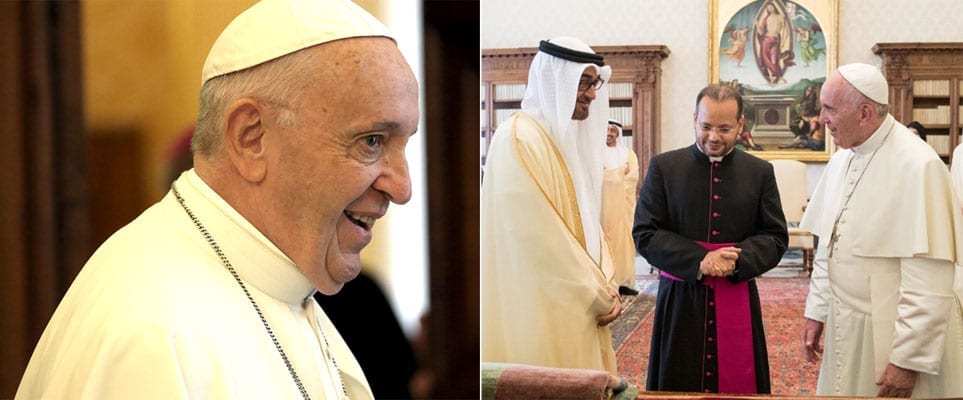 Pope Francis is scheduled to arrive at the Abu Dhabi Presidential Airport on February 3 and will be greeted by Abu Dhabi's Crown Prince, along with key UAE dignitaries.
On February 4, there will be a welcome ceremony at the main entrance of the Presidential Palace, followed by an official visit to the Crown Prince at the Palace.
On the same day, the Pope will also visit the Grand Mosque and will attend a private meeting with members of the Muslim Council of Elders, after which the International Interfaith Meeting, the primary cause for the Pope's visit to the UAE, will take place at the Founder's Memorial.
At the International Interfaith meeting, Pope Francis will also be presented with a copy of Celebrating Tolerance written by the Reverend Andy Thompson, MBE. The book is the first of its kind to be published to coincide with the Year of Tolerance and features a foreword from HE Sheikh Nahayan Mabarak Al Nahayan, UAE Minister of Tolerance. It will be presented to Pope Francis by Sheikh Nahyan.
On February 5, the Pope will pay a private visit to the Cathedral in Abu Dhabi followed by the Holy Mass at Zayed Sports City Stadium. A farewell ceremony will be held at the Abu Dhabi Presidential Airport, after which the Pope will depart back to Rome.
The Papal mass is the most awaited event from the three days of the Pope's visit to the UAE, which is home to nearly a million Catholics all eager for a chance to catch a glimpse of the bishop of Rome.
Tickets are also being distributed to several churches in the UAE, who will be allocating the tickets to different groups and communities within their own parish.
If you miss out on a ticket, however, the event will be live streamed and broadcasted in churches across the country, the papal visit website  as well as on the Vatican's YouTube channel.