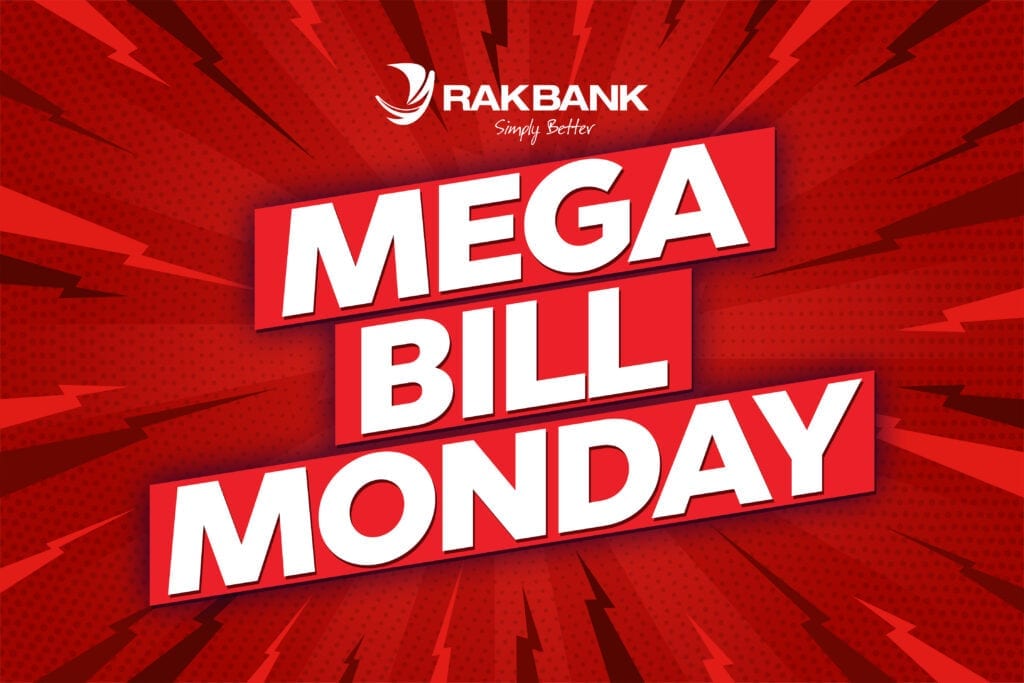 RAKBANK MEGA BILL MONDAY is here!
·       Your chance to be the hero with a Zero!
·       Every week we'll  pay off one of your utility bills bringing your outstanding to NIL!
.       It could be your phone bill, your water and electricity, even a restaurant bill, the choice is yours!
·       Win your share of AED 80,000 of utility bills paid across the Channel 4 Network
·       Register below or send a screenshot of a recently paid utility bill using your RAKBANK card or through RAKBANK digital banking to Whatsapp 050 636 1013 
·       And listen to RAKBANK MEGA BILL MONDAY on Morning Drive With Vysakh and Samira
·       It could be you!
COMPETITION TERMS AND CONDITIONS
1.  RAKBANK MEGA BILL MONDAY is Channel 4 Radio Network promotion across its four radio stations,104.8 Channel 4 FM , Al Rabia 107.8 FM , 89.1 Radio 4 FM and Gold 101.3 FM broadcasting in the UAE
2.  Following a period of pre promotion and registration listeners to all four of the above stations will have the opportunity to win the reimbursement of a recent utility bill as defined below, each Monday.
3.  Utility Bills are defined as Phone bill, Electricity & Water Bill, Gas Bill ,Salik Top Up , Restaurant bill , Hotel bill , Entertainment bill etc.
4.  The pre promotion and registration period to enter RAKBANK MEGA BILL MONDAY will commence on 23rd June 2021.
5.  From 28thJune 2021 each of the four stations will play RAKBANK MEGA BILL MONDAY every Monday at various times of the day for 32 weeks until 31st Jan 2022.
6.  Players will be selected to play from the above online registration page or on What'sApp 055 746 1048
7.  Participants should have paid this via RAKBANK digital banking or using a RAKBANK card at any payment location.
8.  Winners will be required to show a proof of payment.
9.  Each participant will have to submit the copy of their utility bills minus their personal details.
10. Each week a RAKBANK MEGA BILL MONDAY winner will be selected at random and called to be awarded their prize of the amount corresponding to the utility bill they have submitted.
11.  In the event that the selected entrant is unable to answer a call from the Channel  4 studios at contesting time, the station reserves with right to randomly select another winner and call them instead.
12.  Please allow up to 30 days for prize fulfillment
13.  Regular Radio Station Terms & Conditions apply.